Community Voices Returns to the Hipp
Apr 18, 2012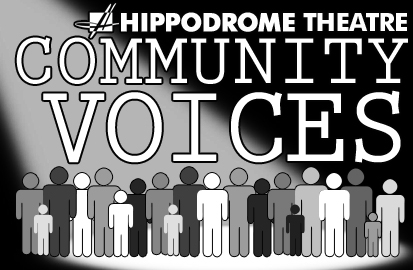 The Hippodrome Theatre will host the second annual Community Voices public theatre event on Monday, April 23 at 6:00pm.  This year's theme is Monologues on Change.  We're inviting residents of Gainesville and surrounding communities to explore the idea of global, local or personal change through monologues.
Hippodrome actors, staff, and HITT (Hippodrome Improvisational Teen Theatre) students will perform selected monologues written by your friends and neighbors at this free event on Monday, April 23 at 6:00pm.
After the Mainstage performance, audience members will be invited downstairs to the community action fair and light reception courtesy of Willy Mexicana Grill. Come see what your neighbors are doing to create change in our community! 
For more information, please visit: http://thehipp.org/education/community-voices